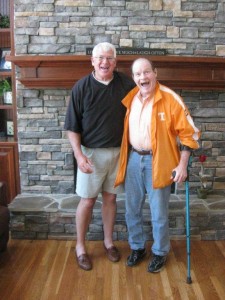 Former Vol tackle and VFL Jerry Holloway reports that former Vol running back and VFL Walter Chadwick's health is declining, and that he could use a mailbox stuffed with good wishes "long about now."
Attached is a 2008 picture of Walter and former Vol tackle Elliott Gammage.
"Your encouragement will certainly help in this process," says Walter's friend Ellen Morrison.
Send your messages of encouragement to:
Walter Chadwick
341 Winn Way Apt. 135 
Decatur, GA 30030
Let's let Walter know the "Vol Nation" is standing behind him.
Friday, August 22, 2014