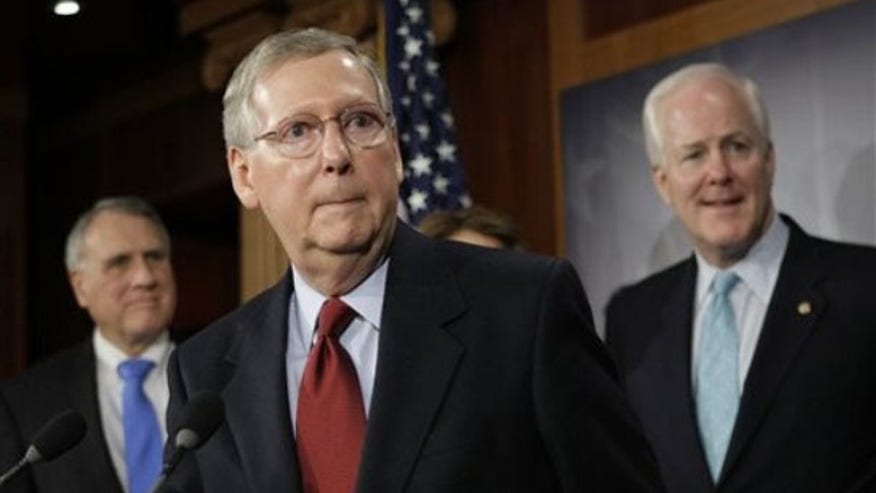 The economy hits unspeakable lows. The immediate provisions of health care reform fail to ease opposition. Anti-incumbent fever sweeps the nation, and Republicans ride the wave of discontent to take control of Congress. 
This is the elusive sequence Republicans appear to be banking on to translate voter dissatisfaction over health care reform into a 1994-style GOP tsunami. 
Republicans acknowledge the difficulty. But, with health care reform the law of the land as of Tuesday, the minority party is setting its sights on solving its woes by ending Democrats' reign. 
"In the end, in this political process, in this great democracy we have, the voters, the people, always get the final say-so," Sen. John Cornyn, R-Texas, chairman of the Republican National Senatorial Committee, said Tuesday. "And I think this is very important to remember as the president intends to take a victory lap on this bill." 
Cornyn may be taking the long view on the Senate side. In an interview earlier with "Fox News Sunday, he said 2010 will yield "significant gains" but said the nearly two-dozen Democratic seats up in 2012 could make it "the year we turn the corner." 
But on the House side, the GOP is gunning for the 40 seats needed to take control of the chamber. 
"The decision by President Obama and the Democrat-led Congress to ignore the voters and ram their government takeover of healthcare down the throats of the American people will come at a steep political cost in November," National Republican Congressional Committee Chairman Pete Sessions said in a written statement. 
In the immediate aftermath of the health care package passing Congress late Sunday night, Republicans have tried to turn their biggest defeat of Obama's presidency into a cash cow to help them target vulnerable Democrats in the fall. 
The Republican National Committee launched an online fundraising drive on a Web site called "Fire Pelosi." The party reported raising more than $1 million using the pitch, "40 Seats Means No More Madam Speaker." 
The opportunity may be there. Forty-eight Democrats occupy House seats in districts that Republican Sen. John McCain won in the 2008 presidential election. The Rothenberg Political Report estimates that 62 Democratic House seats are in play this year. 
But forecasters don't see a GOP takeover as likely at this point. 
Rothenberg projects just 12 of those House seats lean or tilt Republican. Larry Sabato, director of the University of Virginia Center for Politics, offers the same projection. 
Republicans have put dozens of Democratic incumbents in their sights, but some of them -- like Connecticut Rep. Chris Murphy, Ohio Rep. John Boccieri and others -- are considered to be in relatively safe territory. 
Forecasts for the Senate also show the Republicans picking up seats, but not quite the 10 needed to take control of the chamber. 
There's another bigger, and more unlikely, goal that Republicans are shooting for in their response to the health care bill becoming law besides taking back Congress. 
Several top GOP lawmakers have pushed the idea that somewhere down the road, they will be able to repeal it. 
"I can tell you, with regard to the campaign that will continue with the American people, I think the slogan will be 'Repeal and Replace' -- 'Repeal and Replace,'" Senate Minority Leader Mitch McConnell said Tuesday. 
Repealing the law following the next election would be virtually impossible. Senate Republicans would need to win 19 seats to create a filibuster-proof majority and 26 seats to be able to override a presidential veto. House Republicans would also need a two-thirds majority to override. 
But only 17 Democratic Senate seats are in play this November -- so unless the party experiences a sudden and remarkable wave of retirements, Republicans have no chance of reaching that threshold. 
The earliest the GOP would have a chance to reverse the law would be after the 2012 election, when the party would have a shot at taking back the White House and, against all odds, firming up a two-thirds majority in both chambers. 
Some Republicans, though, are keeping the goal alive. 
"Just because it's hard doesn't mean we shouldn't go after it," said Rep. Steve King, R-Iowa, who described an elaborate strategy in trying to ultimately seize power and undo the health legislation. 
King described that goal as a matter of political momentum. He said it's possible Congress could try to push a bill to repeal health care reform before the election just to get lawmakers on the record. 
"When the American people go to the polls in November, then they will know," he told Fox News. "Part of what we're asking for from them is a mandate to repeal this socialized medicine bill." 
Republicans heavyweights like McCain and Sen. Scott Brown, R-Mass., have also supported the repeal idea, and Sen. Jim DeMint, R-S.C., on Tuesday introduced a bill that would do exactly that. 
"I am confident that over time, we can affect this in a very substantial way, and that is obviously something we can't quit on," McCain said. 
However, Republicans in both the House and Senate are deeply divided on the idea of a repeal push, even though they were united like glue in opposition to the original bill. 
Some view the repeal push as a distraction and say provisions like prohibiting insurance companies from denying coverage over pre-existing conditions would be politically difficult to take back at this point. 
In order to succeed, Republicans would need virtual unanimity in the repeal push. On a separate track, more than a dozen state attorneys general are challenging the health care law in the courts. 
For now, the major Republican campaign arms are focused on raising cash and ousting Democrats, repeal notwithstanding, and using anger over the health care law as their weapon. 
But Democrats are notching Tuesday's signing of the health bill as an historic victory that will vastly improve the lives of everyday Americans -- and party leaders have no plans to shy away from it in the months to come. 
Obama starts his campaign to tout the bill's contents to the public Thursday in a visit to Iowa City, Iowa, where he first announced his health care plan in 2007 as a presidential candidate.
White House Press Secretary Robert Gibbs welcomed the GOP challenge at the press briefing Monday. 
"I think if people want to campaign on taking tax cuts away from small businesses, taking assistance away from seniors getting prescription drugs, and want to take away the -- a mother knowing that their child can't be discriminated against by an insurance company -- if that's the platform that others want to run on ... then we'll have a robust campaign on that," Gibbs said.