Key games for coaches on the hot seat
August, 16, 2012
8/16/12
3:40
PM ET
We couldn't really dive into any sort of college football talk without talking about coaches on the hot seat. It's an annual discussion that ranges from coast to coast.
In a what-have-you-done-for-me-lately world, administrators and fan bases can be tough to please these days. ESPN colleague Travis Haney recently took a look at a few hot-seat coaches around the country and the
key games for them

this fall. Making the list from the SEC were Tennessee's Derek Dooley and Kentucky's Joker Phillips. Both enter the 2012 season with some fire developing beneath them.
[+] Enlarge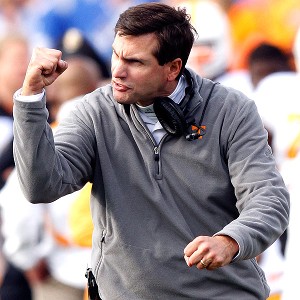 AP Photo/ James CrispSeptember matchups with NC State and Florida are critical for Vols coach Derek Dooley.
Are those fires justified? It's debatable, but poor seasons for each could send them packing.
Haney pointed to the NC State game and the Florida game as ones that could greatly influence Dooley's future with the Vols. Both are huge, really. NC State is a team that could definitely challenge Tennessee's defense. Experience is on the side of the Wolfpack, while the Vols are still trying to work the kinks out of moving from a 4-3 to a 3-4 base on defense.
A loss to NC State in the Chick-fil-A Kickoff in Atlanta to begin the year could be devastating to Dooley's tenure. It basically makes that Week 3 matchup at home against Florida a must-win game. Drop both of those and Dooley's seat -- along with the Vols' fan base -- could spontaneously combust.
To me, a loss to NC State would make things very uncomfortable for Dooley in Knoxville, but it doesn't keep the Vols out of the SEC race. A loss to Florida could be a different story. Tennessee hasn't beaten the Gators since 2004, and you better believe people in and around that program are ready to end that losing streak. Plus, another early-season SEC loss could send this team into a tailspin. The Vols are trying to become a closer team, but a loss that puts them behind in the SEC East race could be the undoing for a team that was on edge all last season.
NC State means a lot, but it doesn't keep Tennessee out of Atlanta. Florida could and the Gators could determine if the Vols have another losing record in conference play. It might not keep Tennessee from the postseason, but it'll make getting to eight wins during the regular season a lot tougher.
On the other side of the coin, the Tennessee game is just as important to Florida coach Will Muschamp. While his seat certainly isn't as hot at Dooley's or Phillips', he didn't have a great first year in Gainesville. The Gators travel to Knoxville after being on the road at Texas A&M for the Aggies' first SEC game. A young, unproven offense on the road in what should be an enormously exciting and intimidating environment? Yikes!
Like Tennessee, a loss on Sept 15 could be the difference in having a winning or losing record in SEC play for the Gators.
As for Phillips, that Louisville game is critical. The Wildcats will likely need to sweep through their nonconference slate in order to make it back to a bowl game. This team just can't afford to lose that first game. Dropping a second straight game to the Cardinals is bad enough, but not making a bowl because of it (again) could land Phillips in trouble.