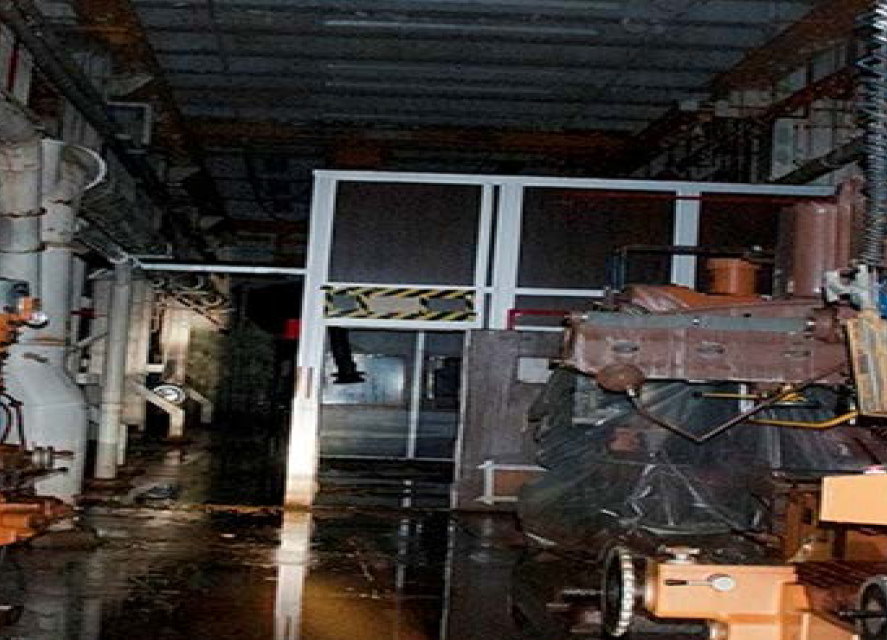 This 2013 photo shows degraded conditions in Y-12's Alpha-5 buildling, where contaminated equipment sits in standing water associated with roof leaks. (DOE photo)
The Department of Energy's Inspector General has identified more than 200 high-risk buildings around the nuclear complex that are dirty and degraded and have no definitive schedule for cleanup, and the "worst of the worst" is the Alpha-5 facility at the Y-12 nuclear weapons plant in Oak Ridge.
The audit report released today by Inspector General Gregory Friedman found serious weaknesses in DOE's efforts to deal with these old and deteriorated facilities — some of which have been out of operation for decades — that loaded with radioactive and hazardous materials. The schedule for turning these facilities over to DOE's Environmental Management program for cleanup is getting pushed more and more into the future, the report said, indicating that many of these facilities won't be designated for cleanup until 2025 or possibly even a decade later.
Building 9201-5, also known as Alpha-5, is a former uranium-enrichment facility that dates back to the World War III Manhattan Project. The IG report said the National Nuclear Security Administration, the semi-independent part of DOE that oversees the nuclear weapons complex, had characterized Alpha-5 as "the worst of the worst" even though about $24 million has already been spent to reduce risks at the big building. The reports notes that in addition to hazardous and radioactive contamination being spread by water from leaking roofs, there is a risk of explosion from materials housed there.